2021 Light Up The Town: A City-Wide Light Celebration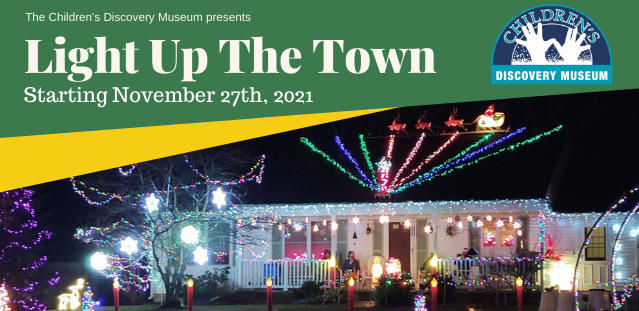 The Children's Discovery Museum is hosting a city-wide light celebration. This year's holiday season fills the entire town as businesses and individuals decorate their properties with as many lights as possible. The registered parties will be part of a city-wide map for community members to drive or walk by each location to admire the decorations.
We are so excited to release the 2021 Light Up The Town Map. Created by the wildly talented Serena Sanborn, this year's map includes 30+ decorated sites to help fill you with holiday cheer. 
Our judges will review houses and reveal the top 5 in the coming week, so stay tuned to hear about the best spots to visit.
A big thank you to everyone who participated this year- none of this could happen without your enthusiasm and holiday spirit!
Update: Announcing The Top Light Up The Town Houses
Happy Nature: 45 Roosevelt Ave, Waterville

Candy Cane Lane: 1188 Augusta Road, Winslow

The Spirit of Griswold: 15 Joe Avenue, Winslow

Home Alone on Franklin Street: 39 Franklin St, Waterville
And the runners-up are …
All We Need Is Love: 13 Pleasant St, Waterville (House B)

Vacationland @ GHM Insurance: 51 Main St, Waterville (House F)

Nut House!: 2 Primrose St, Winslow

Winter Wonderland: 56 Drummond Ave, Waterville

Merry Harrington Christmas: 1418 August Rd, Winslow

Waterville's Winter Wonderland: 461 Maine Street, Waterville
We also highly recommend you visit last-years winner, who is at it again this year with a spectacular house:
Chris's "Griswold's" World: 12 Woodlawn Drive Winslow
Thank you to CTB Electronics for donating this year's prizes.
---
Comments are closed.