The History of Kringleville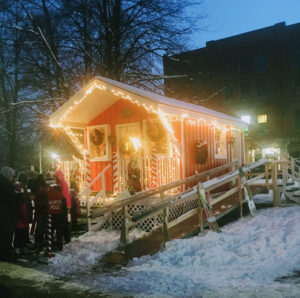 Downtown Waterville's Santa Claus tradition began in 1969 when Waterville volunteers brought a little unheated log cabin to Castonguay Square and lit up a young spruce tree. Thanks to Central Maine Railroad, Santa arrived in Waterville in a fine style that year. 
In 1982, thanks to the efforts of the Waterville Intown Business Association, Santa's old house was painted and converted into a small chapel, and a new, larger home was built by the students from the vocational program at Waterville Senior High School. The years following brought a candy cane garden, gingerbread people, talking reindeer, an elf workshop, and a Holiday Parade held on the Saturday after Thanksgiving.
The Kringleville tradition moved into the 1990s with an ever-changing face of Downtown Waterville and the closing of major landmark businesses on Main Street. Despite the changes, nothing could keep Santa Claus away.
As Kringleville moved into the twenty-first century, a new house for Santa was built by the employees of Keyes Fiber. In 1999, the local group, A Touch of Country (led by Gary and Cindy Michaud), took over the parade from the Intown Business Association and changed it to a Friday evening event so that more parents could attend with their children. It was then called "A Touch Of Country's Electric Christmas Parade" and concluded with the lighting of the giant spruce tree in Castonguay Square. In 2007, A Touch of Country turned over the organization of this popular tradition to Waterville Main Street, which renamed the event The Parade of Lights.
Holiday Magic continues in Downtown Waterville and will continue for another forty years as long as there are children who believe. When asked how he felt about returning to Waterville each year, Santa said, "I have seen a multitude of children over the years. Today, many of those children are now Grandparents and Parents, and it is with pride and excitement that Mrs. Claus and I return to Waterville to make the hearts of all the little children in Central Maine happy."
In 2017, the Children's Discovery Museum adopted the Parade of Lights and Kringleville. They added arctic animals, a mini gingerbread house to the decor, and a mini ice rink for families to enjoy while waiting in line. 
2020 and 2021 were difficult years for our community and the world as we struggled through the challenges of COVID. But nothing could stop the Christmas spirit! The Children's Discovery Museum quickly shifted to an online platform, and Santa and Mrs. Claus were able to talk with children and their families over video calls.
In 2022, the Parade of Lights and Kringleville were back to the in-person format. Run by a dedicated group of volunteers in partnership with the Children's Discovery Museum and the City of Waterville, Santa Claus will once again return to Downtown Waterville and carry on this cherished holiday tradition.